Faith Capone has always been a competitor, having raced and won many cycling competitions in her life. After discovering adaptive cycling, she knew she found a new avenue for competition!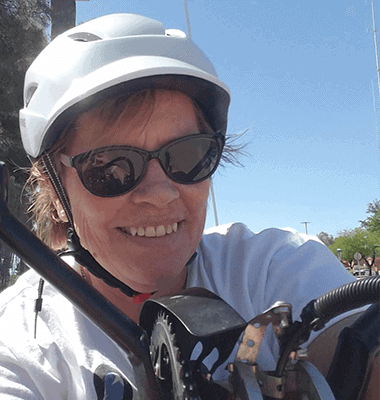 Currently, Faith is training to compete in the upcoming 2021 Tucson El Tour de Tucson. She will ride as a member of the Ascension Cycling Team (ACT). The team is sponsored through Ascension wheelchair lifts and in partnership with Southern Arizona Adaptive Sports and the University of Arizona's Adaptive Athletics program.
We reached out to Faith to learn more about her and her plans for the upcoming El Tour de Tucson.
---
Meet Faith, an Arizona Cycling Champion
My name is Faith Lee Capone and I'm 57 years old. I was born with Myelomeningocele Spina Bifida and now have a tethered spinal cord. This affects my nerves and mobility from the waist down. I served in the U.S. Army in the early '80's where I trained as a mechanic for vehicles up to five tons and on generators. Afterwards, I spent over twenty years working in the accounting and bookkeeping field but haven't done that in a while.
About 15 years ago, as my spinal cord damage progressed, I began isolating myself. I did not knowing how to move forward with the dramatic changes to my mobility. I started to think that I was becoming of less value as a human being. Unfortunately, this seems to be the view a lot of people still have towards those who have disabilities. So, I had plenty of confirmation that I was becoming 'less than'. As a result, I stayed home, out of the way of people.
I spent years immersed in research, trying to understand what happened to me and why. A great deal of that time was spent searching for an answer, a cure that would make my body work the way I wanted it to. I was stuck in an endless loop. All roads led to dead ends. Not only is there no cure, but the nerve damage will progress and I will continue to lose mobility in my legs. But I realized that working on how to move forward is incredibly important and I needed to stop wasting my time trying to go back.
I began to accept my body 'as is' and started looking for help in how to navigate my new way of life. That's when I found a support group through Arizona Spinal Cord Injury Association. At the time, Coach Peter Hughes (now Director of Adaptive Athletics at the University of Arizona) led the group. It was through Peter that I learned of the adaptive sports community. It was also through him that I learned of Mia Hansen.
Cyclist, Champion, Competitor
I have had an athletic and competitive itch throughout my life, so I began researching adaptive sports while gently taking baby steps to rejoin society. In my research I came across a place called Southern Arizona Adaptive Sports. They help connect people with disabilities to recreational and sports activities. Browsing through their website, I discovered adaptive cycling. I had used to race bicycle motocross as a kid and won over 22 trophies. Most of those trophies were first and second place but had also won 5th place in the Arizona State Championship. It had been so much fun, but I thought cycling was permanently in my past. I was so excited to learn more.
At the end of March 2021, I reached out to Southern Arizona Adaptive Sports through their website and heard back from Executive Director Mia Hansen. She invited me to come by to test drive one of the handcycles they had. I met Eduardo Aguirre, the handcycle coordinator for SAAS. On the very first test drive, I knew I had found my sport. And when Eduardo Aguirre mentioned joining their team for El Tour de Tucson, I jumped at the chance. I've been training on one of their handcycles since April of this year.
I also learned of a program through the recreation therapy department at the Southern Arizona Veterans Hospital that might buy me my own bike. I jumped on that and after a few months of riding with them, my new bike is now on order. An Invacare Top End Force G Handcycle.
Training For El Tour de Tucson
When I first started training for El Tour de Tucson, my goal was to just finish the race before they started to pick up the traffic cones. But after the training of the past few months, I know I'll finish. My new goal is to finish in under two hours. I'm riding at an average of 9 mph and I know I can do better. But that competitive itch keeps niggling at me and every now and then I think to myself, maybe I'll win. So, occasionally, I'll need to tamp that down to easy does it, slow and steady. This is only my first race; it won't be my last.
I currently ride two to four times a week. I'm just trying to get in as much distance as I can in an hour's time, depending on the weather. In August I plan to extend my rides to two hours. I set goals for myself at the start of every ride, challenging myself to do more and more each time. Currently, I am planning to visit the 28-mile tour route for El Tour de Tucson and adjust my training accordingly. I am also on a 'Keto Diet' to lose the weight I gained during, my self-imposed, isolation. I learned how to make keto friendly tacos, and I'm determined to find an acceptable keto friendly donut. Mostly, though, I want to get into the physical condition to compete, not just in the El Tour de Tucson, but future races as well.
There have been challenges, but I'm creative and resourceful. I have a great support system in my family and in the adaptive sports community. All that brain power, experience and support will help me overcome any obstacles I may face.
I do have down days. I'll wake up with my body really hurting or introducing me to new and different types of pain. I still have anxiety when leaving my house. But a bike ride has never failed to make me feel better. Handcycling has become my therapy.
-END-