Eduardo Aguirre has talent and determination. He is the 2019 El Tour de Tucson Handcycler of the Year and a recent recipient of a Kelly Brush Foundation Grant. An avid sports enthusiast, Aguirre was part of the Mexican National Team that competed in the World Cup in Poland. He has participated in numerous races, winning many and leaving countless other riders defeated in his wake.
Aguirre trains year-round for competition, splitting his time between Tucson, Arizona, and Denver, Colorado. Now, at 62, he is currently training for another El Tour de Tucson ride this coming November. This time, he'll be riding and raising awareness of accessibility and adaptive athletics for Southern Arizona Adaptive Sports (SAAS) as a rider in the Ascension Cycling Team (ACT), sponsored by Ascension wheelchair lifts.
Eduardo is the social media manager and handcycling program coordinator for SAAS. We recently caught up with him to learn about his routine and what keeps him training hard.


---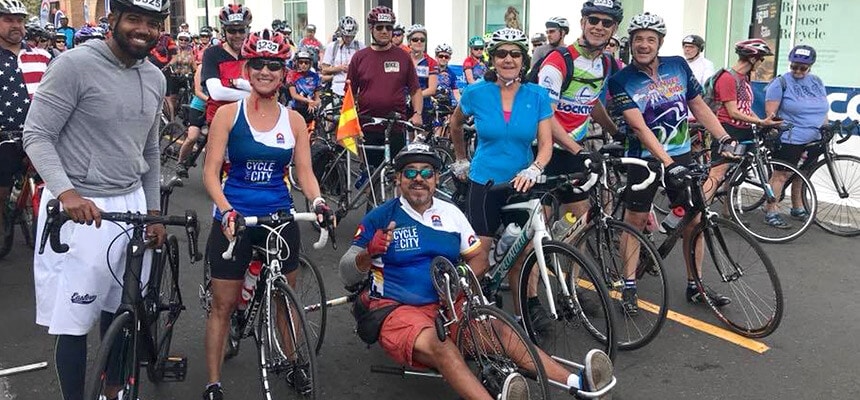 Ascension: How long have you been handcycling?
Eduardo Aguirre: I discovered handcycling in the summer of 2013 with a demo bike that was passed around my wheelchair tennis friends in the Denver area, and fell in love with it immediately!
ASC: What drew you to handcycling in the first place? Why not something else?
E.A.: I had been involved in other adaptive sports before, mainly wheelchair tennis, also wheelchair softball, sled hockey, mono skiing, then that handcycle came and became my main sport ever since.
ASC: You're training for the El Tour de Tucson race in November. What's your daily schedule like? You have cycling, weights, nutrition? How do you get it all in?
E.A.: I try to ride at least five times a week, usually early in the morning, weather permitting. I haven't done weights in a while, but should mix them in... I certainly try to eat healthy. Training and working out is certainly part of my daily routine.
ASC: Tell us about yourself, Eduardo. What's your story?
E.A.: I'm originally from Mexico City and I became a US Citizen in 2006. For the last four years, I've spent the winters in Tucson working for Southern Arizona Adaptive Sports – I'm self-employed and work on social media, translations and other projects.
I injured myself in 1995, incurring in an incomplete spinal cord injury and bilateral ankle fusion after a 45-f00t fall. After a year of physical therapy, I was invited to a wheelchair tennis clinic and soon discovered that adaptive sports were going to be a big part of my rehabilitation and second chance in life. I have been quite active in adaptive sports ever since.
I made both Colorado teams for wheelchair softball and sled hockey sponsored by the local professional teams. Wheelchair tennis was my main sport for years, and I participated in several tournaments every year between 1996 and 2005.
Between 2003 and 2005 I was part of the Wheelchair Tennis Mexican National Team and participated in a World Cup in Poland. More recently, in the last seven years, I have dedicated more time to handcycling. I've done a couple of marathons, three Tour de Tucson rides and was honored to have been presented with the "Tour de Tucson Handcycler of the year" in 2019.
ASC: What motivated you to pursue adaptive athletics?
E.A.: I loved sports since childhood. I played soccer for most of my early life and also played football in high school. Just a few months after my injury, I realized that adaptive sports were going to be instrumental in my second chance in life having, survived a very tragic episode where I sustained life changing injuries. Adaptive sports have given me plenty of motivation to keep a healthy life style and have made many great friends in the adaptive sports community.
ASC: What drove you to race competitively?
E.A.: More than the competitive factor of sports events, I enjoy getting out there with others that share my passion for the sports.
ASC: How many races have you competed in? Any big victories you want to boast about? Any good race stories?
E.A.: I have done a couple of marathons, three Tour de Tucson – one 37-miler and two 25-milers. Three Denver Century Rides (25 milers) and I've won at least three of those rides in my division. I always push my limits to compete out there and try to do better than the youngsters!
ASC: You split your time between Denver, Colorado, and Tucson, Arizona. Do you handcycle and train in both locations? If so, do you see training benefits to each place?
E.A.: Yes, I train in both cities and I know the bike trails in both places like the palm of my hand. The Tucson Loop is superb and one of the best trails in the whole country! The big difference, of course, is the weather. I'm fortunate to experience the best of both great cities, splitting my time being in Tucson in the late fall and winter, and in Denver in the late spring and summer. I take my handcycle whenever I can to other places in between because I travel quite a bit.
ASC: You've rode in the El Tour de Tucson before, what keeps you coming back? Is this race important to you? If so, why?
E.A.: Being one of the more prestigious cycling events in the whole country I just can't miss the chance to represent SAAS in El Tour. Also, it happens every year during the time that I'm in town! This time I'm helping Mia Hansen [executive director of SAAS] put together a handcycling team for first time with the great support of Ascension in 2021!
ASC: You recently won a grant for a new handcycle. Can you tell us about that?
E.A.: I'm so very excited about this! for the last seven years that I have done handcycling, I have been riding in old "hand me down" bikes. The one I have been riding lately is an old Freedom Ryder lean-to-steer model that has been very nice to me. But early this year my great friend and mentor Mia Hansen encouraged me to apply for a Kelly Brush Foundation Grant and after going through the application process I was so very fortunate and honored to have been one of the recipients.
A brand-new Invacare Force 3 handcycle has been ordered and they are putting it together in the coming weeks. I will receive it sometime in the next couple of months and I can't wait to start training on it towards this year's El Tour de Tucson. If Ascension has stickers, I plan to put one of my brand-new ride!
ASC: What are your ambitions as a hand cyclist?
E.A.: I just turned 62 couple of weeks ago. I'm not planning at this point to make the Paralympics by any means, but I definitely plan to continue handcycling as my main exercise for years to come. I love the freedom that handcycling gives me in the outdoors, whether it's alone of going to ride with others. I love to share my passion for cycling with other people and I feel fortunate to be a part of the SAAS team where we have several handcycles and adaptive bikes to share with the local community and encourage them to get out and about taking advantage of the great Tucson bike trails.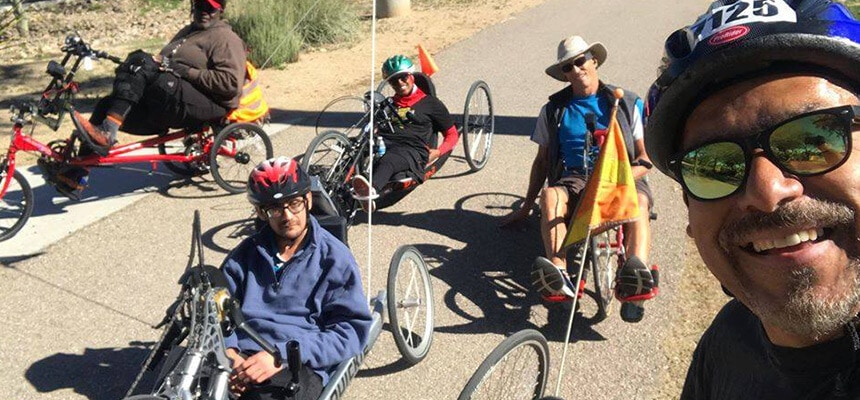 ASC: Did you or do you now experience any difficulties or challenges handcycling and training? If so, what methods have you developed to overcome these challenges?
E.A.: Not really, besides the weather challenges I don't feel like I have had any challenges or obstacles to my training... I have my own transportation to carry my handcycle to take it to the bike trails, other people make face the challenge of transportation, one small challenge that I can think of is to try to design a rack to transport the handcycle with a hitch for me to fit my tennis and everyday chairs in my car for example.
ASC: Do you ever have any down days, when you just don't feel like getting on the bike? How do you motivate yourself to train?
E.A.: Good question. Just like everyone, I have some down days but it's actually looking forward to going handcycling that gets me going! Getting to the bike trails with my thoughts and my music is like therapy for me. I like to encourage friends to join me for bike rides, too. Sharing my passion for this sport is important for me.
ASC: What does handcycling, and really all athletics, mean for you?
E.A.: I feel very fortunate to have had a second chance in life. I'm very appreciative of the opportunities that adaptive sports have given me to enjoy life in general, to keep a healthy lifestyle, and to have met so many great people along the way.
ASC: How did you find SAAS and come to be involved with the program?
E.A.: I've known SAAS's Executive Director Mia Hansen for the last 36-years. I became more involved with the Southern Arizona Adaptive Sports organization when I started spending the winters in Tucson few years ago, first as the Social Media Coordinator and then more involved with their outreach and coordination of events in most of the sports and activities that SAAS organizes, like adaptive biking, tennis, softball. When I'm in Tucson, I live with Mia's brother Mark and his house happens to be SAAS headquarters. I love to be part of the SAAS team.
ASC: From an adaptive athletics and accessibility viewpoint, is there anything you'd like to see change in Tucson or anything you'd like more people to know about?
E.A.: Tucson is a great town for adaptive sports. I'm very pleased with the general accessibility, I'm also very pleased with the great partnership between SAAS and the University of Arizona Adaptive Athletics program. I definitely like to be a good ambassador for SAAS and showcase all of what we do via our social media channels. I encourage people following this interview to visit our website and Facebook page to see all the great opportunities that we have going on in both sports and volunteer opportunities.
ASC: Is there anything else you'd like to add?
E.A.: Once again I'd like to thank Ascension Wheelchair Lifts for the great support and sponsorship to Southern Arizona Adaptive Sports, I look very much forward to this partnership!
ASC: Thanks for your time, Eduardo! Good luck out there.
END


---


For more information about Eduardo Aguirre, SAAS, the Ascension Cycling Team, or for inquiries regarding wheelchair lifts and accessibility, contact a representative below:
Paul Davis
Marketing Manager
Ascension Wheelchair Lifts
AGM Container Controls
pdavis@agmcontainer.com
520.881.3993
Mia Hansen
Executive Director
Southern Arizona Adaptive Sports
miajhansen08@gmail.com
520.370.0588