A Guide to Ascension Wheelchair Lifts
Project engineers want something that saves space and looks great.
General contractors want something that's quick to install.
Facility managers want something that's easy to setup, use, and delivers a high level of comfort to those using it.
End users need it all: a discreet, low-impact, accessibility solution that dispels anxiety, is easy to use, and maintains a user's dignity.
So, why use an Ascension wheelchair lift?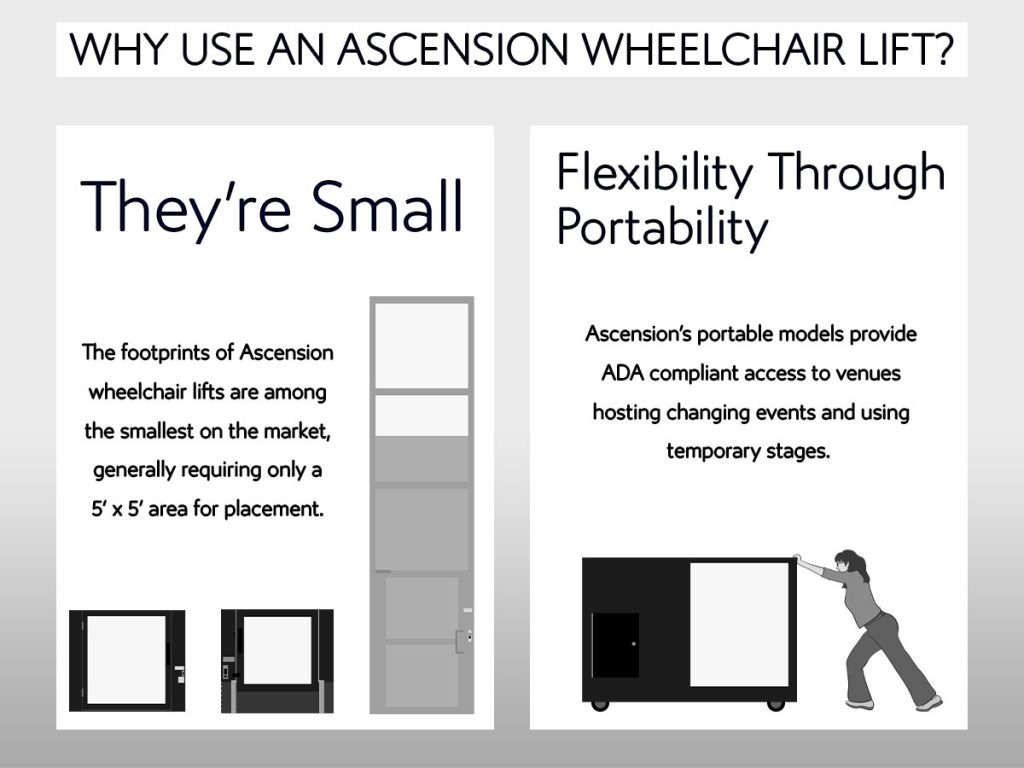 1. They're Small
The footprints of Ascension wheelchair lifts are among the smallest on the market, generally requiring only a 5' x 5' area for placement. That said, all of Ascension's lifts are fully ADA compliant, and easily accommodate riders and their mobility aids.
2. Flexibility Through Portability
Ascension's portable models provide ADA compliant access to venues hosting changing events and using temporary stages. In such venues, a portable Ascension lift can easily replace bulky ramps, saving both space and man-hours spent in setup and tear down. However, Ascension portable models are commonly used in private homes, as well.
3. No Construction
Ascension lifts are designed to make the installation process as streamlined as possible, which is why Ascension lifts do not require an installation pit or ramp to provide floor-level entry and exit. Simply wheel a portable lift onto a level surface, plug it in, remove and store the casters, set the rise height, and use it! For permanent-model Protégé and Virtuoso lifts, bolted them down and hard wire them to a power source after setting them in place.
4. Weight Capacities Up to 900lbs
Frequently, a lift must safely provide for the combined weight of a rider and their mobility aid. In some cases, however, a lift must also safely support the combined weight of two riders and a mobility aid. That's why Ascension lifts provide maximum-weight capacities from 750lbs to 900lbs, depending on model.
5. They're Easy and Safe to Use
Specifically designed for easy and safe use, Ascension lifts offer:
Fully enclosed lift cabs prevent riders from fall out
Floor-level entry and exit without ramps
Large door handles enable easy opening
Under-platform safety pans and safety skirting prevent anyone or anything from being trapped underneath the lift during decent.
6. They Look Good
Each Ascension lift provides maximum window space, as well as clean lines and angles, to produce the lowest possible visual impact. The window area serves two distinct purposes:
To help ease a rider's anxiety or claustrophobia while using the lift.
Allows a room to be seen through the lift, which helps integrate the lift into a space.
Custom Colors are available for each Ascension lift.
7. Product Support
Every new Ascension lift comes from the factory with the longest, most inclusive warranty in the industry: 10-year drivetrain, 4-year parts, and 90-day labor.


---

Contact Us Today
To discover how Ascension wheelchair lifts can help you and your loved ones maintain their independence, call us today at (520) 881-3993. Or send an email here.
American owned and operated, Ascension is located in Tucson, Arizona. Hours of operation are Monday through Friday, 8 a.m. to 5 p.m. (MST).