On July 26th, 2021, the Americans with Disabilities Act (ADA) is celebrating its 31st anniversary. To help celebrate, we're looking back at the history of adaptive athletics and how our Tucson community keeps rolling forward.
A Brief History of Adaptive Sports
Adaptive sports have been around since the nineteenth century. A deaf soccer club, or football club, in Glasgow from 1871 may be the first adaptive sports program, the Glasgow Deaf Athletics Football Club. Later, a French deaf cycling club was established in 1899. However, adaptive sports really went into full swing after WWII as a way for disabled veterans to socialize and compete.
The Stoke Mandeville Games for the Paralyzed in 1948 were the first games iteration of the Paralympic Games. Held on the same day as the start of the Olympics in London, the first Stoke-Mandeville Games saw 16 participants – patients from the Stoke-Mandeville Hospital – compete in archery.
The games quickly grew in popularity. In 1960, the Stoke-Mandeville Games were officially recognized and became the first Paralympics Games. Held in Rome, Italy, the Games featured 400 participants from more than 20 countries and included archery, basketball, swimming, and javelin competitions, among others.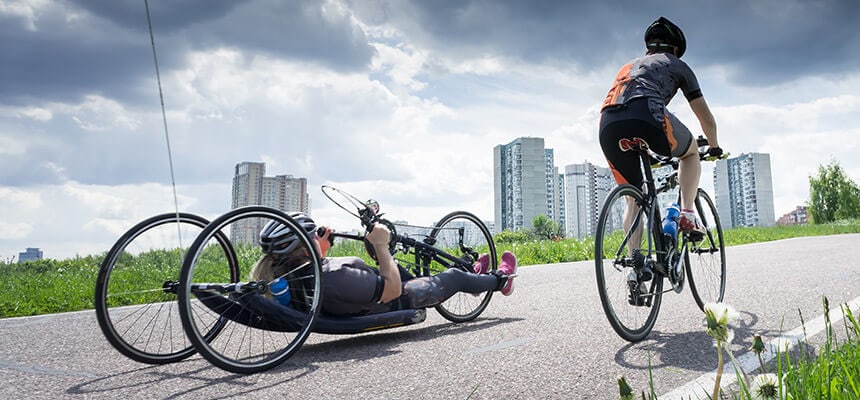 Adaptive Cycling
1984 saw the debut of para cycling at the Paralympic Games. From there, adaptive cycling continued to gain momentum, increasing in popularity with every iteration of the Paralympics until, in 2004, hand-bike events were added. Paralympian cyclists compete in two event categories: Road and Track.
The popularity of para cycling is enormous, with over 200 para-cyclists competing in the Paralympics Games.
Tucson is fortunate enough to boast the top college adaptive athletics program in the nation at the University of Arizona. Furthermore, Arizona's weather and cycling events like El Tour de Tucson make Tucson a destination location for avid hand cyclists and adaptive athletes around the country.
The region's adaptive athletics culture is further supported through organizations dedicated to the cause, such as Southern Arizona Adaptive Sports.
Local Tucson Advocacy
Ascension has recently partnered with SAAS to sponsor the Ascension Cycling Team (ACT), to compete in the upcoming El Tour de Tucson. The goal of the partnership is to raise awareness among the local Tucson community of the need for accessibility and the power to adapt and achieve.
Get Involved
If you're interested in riding with SAAS in the El Tour de Tucson or donating to the SAS organization, visit the SAAS sponsor page.